Enesco launches 'My first Christmas' Peter Rabbit™ items into its popular Winter Collection
Monday, 1 July 2019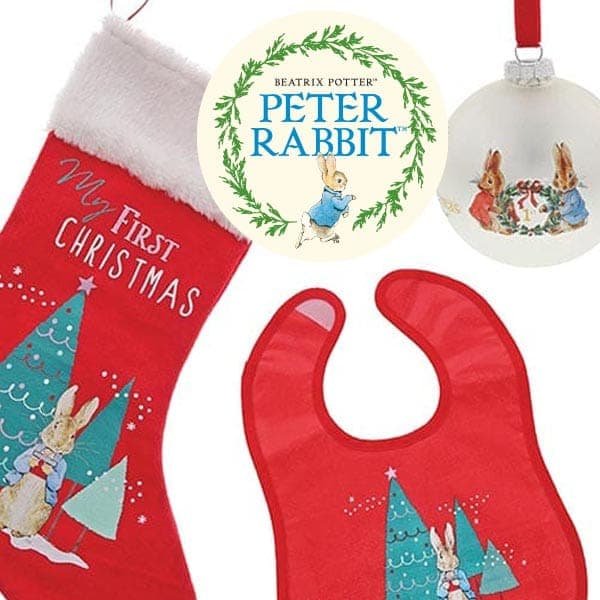 The renowned gift retailer has unveiled new, festive-themed additions into its Winter Collection for fans of Beatrix Potter's best-loved literary character, Peter Rabbit.
Perfect for your customers' celebrating their first Christmas with a baby, the collection features three new items including the Peter Rabbit My 1st Christmas Bib, Peter Rabbit My 1st Christmas Stocking, and Peter Rabbit My 1st Christmas Bauble.
The Christmas Bib and Christmas Stocking retail with an SRP of £4.95 and £15.00 respectively. Like existing items in the Peter Rabbit Winter Collection, these pieces are presented in festive tones of reds and greens, and feature Peter Rabbit in a snowy scene, holding a carefully wrapped gift, standing in front of beautifully decorated Christmas trees. Underneath the snowy scene, across both the Bib and Stocking, the words 'My first Christmas' are also visible in a fun and festive font.
Complementing the bib and stocking, there is also a new Peter Rabbit My 1st Christmas Bauble appearing for the first time in the collection for 2019. Made of glass and measuring 8.0cm in diameter, the bauble features Peter Rabbit in front of a Christmas tree, set against a silver backdrop.
On the rear of this bauble it reads 'My first Christmas' in a shimmering gold font, with a little squirrel poised carefully on the wording. Next to the wording,
Peter can be seen with his little sister Flopsy, holding a Christmas wreath framing the word '1st' in the centre. The bauble features a festive red velvet hang tie to help secure it to a Christmas tree and retails with an SRP of £9.95. All items in the new Peter Rabbit winter collection are available to order via:
About Peter Rabbit™ and Beatrix Potter
The Tale of Peter Rabbit is one of the world's best-loved children's books and was created by author and illustrator, Beatrix Potter in 1902. The story has never been out of print since it was first published by Frederick Warne & Co. (today an imprint of Penguin Random House) and has sold in excess of 45 million copies globally. Beatrix Potter personally oversaw the launch of subsequent products, making Peter Rabbit the oldest licensed character in history. Today over 2 million of her 'little books' are sold globally every year, whilst Peter Rabbit has appeared in books and products in more than 110 countries throughout the world. 
Penguin Ventures (part of the Penguin Random House Group) is committed to growing and protecting The Peter Rabbit™ brand and together with licensing agency, Silvergate Media, manages The World of Beatrix Potter™, one of the world's longest running and largest international literature-based licensing programmes.
www.peterrabbit.com
Related Products