Twinning Trend! Enesco launches new Peter Rabbit™ mug gift set for all the family to enjoy
Monday, 1 July 2019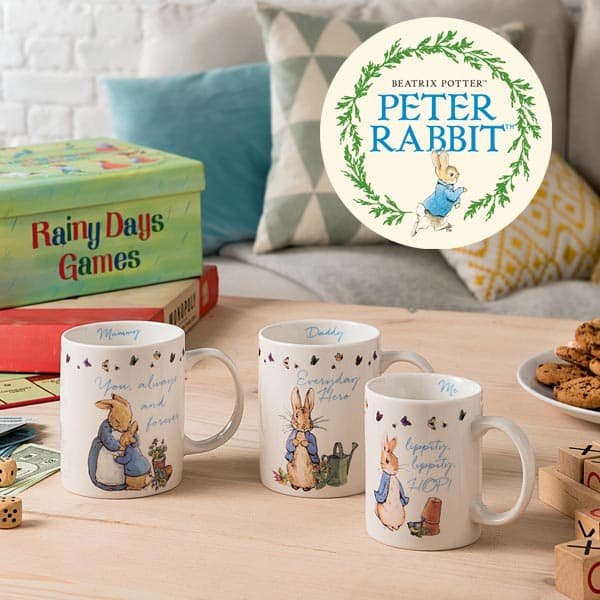 Hot on the heels of the ever-growing 'Twinning Trend', contemporary gift retailer Enesco, has unveiled a brand new Peter Rabbit Mummy, Daddy and Me Mug Gift Set into its Beatrix Potter collection, for all the family to enjoy.
Featuring your customers' favourite bob-tailed bunny, each mug has depictions of Peter Rabbit, using original illustrations from Beatrix Potter's much-loved literary classics. The Mummy Mug features Peter in a warm embrace with Mrs. Rabbit with the words 'You, always and forever' in a delightful blue scrolling script. On the inside rim of the mug, the words 'Mummy' can be seen in the same font.
Applying this style throughout the collection, the Daddy Mug has Peter Rabbit wearing his iconic blue jacket standing next to a green watering can. The mug reads
'Everyday hero', with the words 'Daddy' on the inside rim of the vessel.
Completing the gift set is the Me Mug. Again with Peter Rabbit, next to the illustration it reads 'Lippity, loppity, HOP!', with the inside rim presented with the words 'Me' on it, in the same style and position as both the Mummy and Daddy mugs.
Retailing with an SRP of £25.00, the Mummy and Daddy Mugs measure 9.5cm in height, whereas the Me Mug is a smaller 8.0cm. The whole collection is made from
New Bone China and presented in a branded gift box with a window, making it the perfect gift for a growing family, or a lovely keepsake to mark the birth of a child.
The new Peter Rabbit Mummy, Daddy and Me Mug Gift Set along with other items in the Beatrix Potter range are available to order via: www.enesco.co.uk
About Peter Rabbit™ and Beatrix Potter
The Tale of Peter Rabbit is one of the world's best-loved children's books and was created by author and illustrator, Beatrix Potter in 1902. The story has never been out of print since it was first published by Frederick Warne & Co. (today an imprint of Penguin Random House) and has sold in excess of 45 million copies globally. Beatrix Potter personally oversaw the launch of subsequent products, making Peter Rabbit the oldest licensed character in history. Today over 2 million of her 'little books' are sold globally every year, whilst Peter Rabbit has appeared in books and products in more than 110 countries throughout the world. 
Penguin Ventures (part of the Penguin Random House Group) is committed to growing and protecting The Peter Rabbit™ brand and together with licensing agency, Silvergate Media, manages The World of Beatrix Potter™, one of the world's longest running and largest international literature-based licensing programmes.
www.peterrabbit.com
Related Products