It might be cold out, but Boo is still HOT! – introducing the new Itty Bitty Boo additions from GUND®
Thursday, 1 January 2015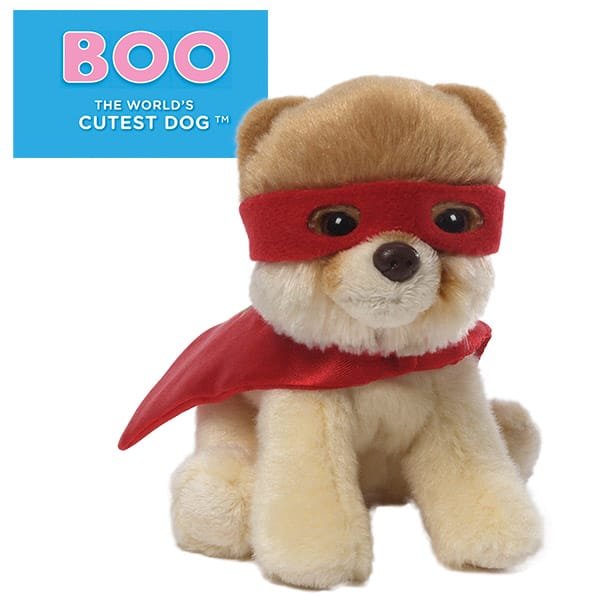 It might be cold out, but Boo is still HOT! – introducing the new Itty Bitty Boo additions from GUND®
Dubbed by social media as the World's Cutest Dog, Boo continues to be an outstandingly 'hot' trend, whatever the weather outside! Always witty and always stylish, the extremely popular Itty Bitty Boo soft toy collection from GUND depicts the precious Pomeranian with the puppy haircut in his favourite adorable outfits.
Carefully made by hand in GUND's trademark style using soft and tactile plush, four new Itty Bitty Boos are to join the range in 2015. Superhero Boo, resplendent in red cape and mask is ready to tackle crime, while Boo-Rex is in prehistoric mode in a hooded green costume! Boo in T-shirt with British flag reveals his patriotic spirit, whilst Nerdy Boo with tie and glasses is heading for the top of the class.
Latest statistics indicate that Boo has over 16 million fans on Facebook and there are over 70,000 views of this superstar's video clips on YouTube, not to mention Instagram, Twitter and other social media.
GUND® by Enesco Boo collection, Itty Bitty Boos SRP £9.95 each. 4048568 Nerdy Boo; 4049360 T-shirt and British Flag Boo; 4046473 Superhero Boo; 4048569 Bo-Rex.
© Boo and his likeness are property of Buddy Boo Inc. All Rights Reserved.
Related Products