Peter Rabbit™ partners with Great Ormond Street Hospital (GOSH)
Sunday, 1 January 2017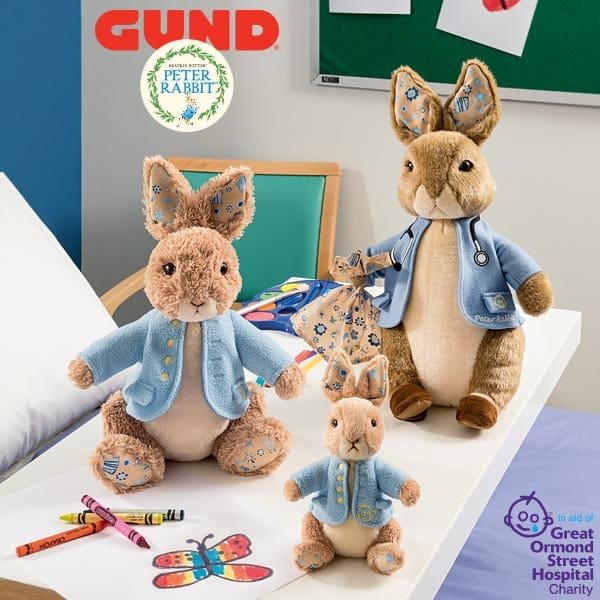 Enesco has partnered with Great Ormond Street Hospital (GOSH) Children's Charity to create three bespoke Peter Rabbit soft toys, including a Limited Edition of which only five hundred are being produced. For every product sold, a donation will be made to the charity by Enesco, Frederick Warne & Co. and Silvergate PPL.
Using original artwork inspired by the drawings of patients who took part in the hospital's arts programme Go Create!, designers have created a very special and completely bespoke fabric especially for the products. It features carrots and flowers to decorate Peter Rabbit's ears and paws, and the limited edition version of the toy also comes complete with its own embroidered stethoscope. Peter's jacket has also been updated to a lighter shade of blue to match the hospital's official colour during the 20th century, and to reflect the colour of the GOSH nurses' uniform in the late 1800s, further celebrating the staff's expertise and dedication towards improving children's healthcare.
Rachael Willis-Fleming, Head of Account Management at Great Ormond Street Hospital Children's Charity said: "We are absolutely delighted that Enesco has created such beautiful new Peter Rabbit designs in support of the Charity.
All the money we raise goes towards supporting our patients and their families, buying the latest medical equipment, helping rebuild and refurbish the hospital, and supporting world class medical research. It's very fitting that the GOSH patients have been involved in the creative process and I'm sure they will be very proud to see how their artwork has inspired Peter's new look.
Great Ormond Street Hospital is one of the world's leading children's hospitals with the broadest range of dedicated, children's healthcare specialists under one roof in the UK. The hospital's pioneering research and treatment gives hope to children from across the UK with the rarest, most complex and often life-threatening conditions. Our patients and families are central to everything we do – from the moment they come through the door and for as long as they need us.
For more information visit www.gosh.org