Enesco launches new Peter Rabbit™ Wall Plaques
Thursday, 2 January 2020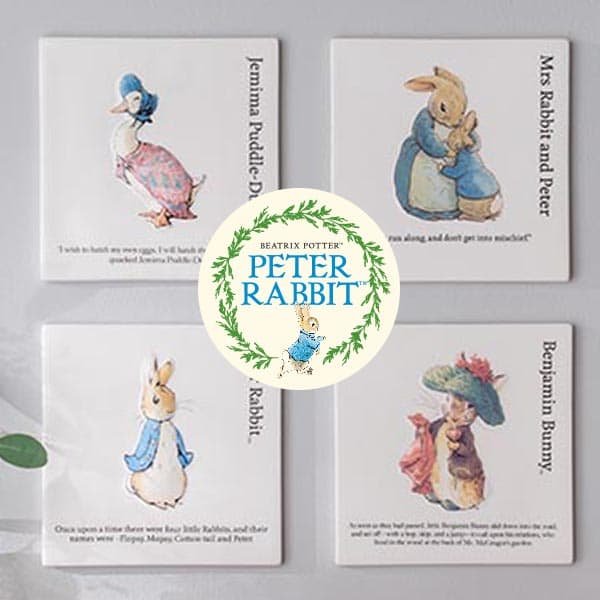 In a brand-new product format, contemporary gift retailer, Enesco, is proud to introduce its latest offering within its licenced Beatrix Potter collection.
Designed to help bring the pages of Beatrix Potter's stories to life in your customers' homes, this new collection of Peter Rabbit Wall Plaques are the perfect pieces for fans to adorn their walls, or for parents to use as nursery décor in their little one's bedroom.
Equally, making a lovely thoughtful gift for new parents welcoming a baby into the family, these brand new wall plaques feature the best-selling characters from Beatrix Potter's much-loved tales, including everyone's favourite bob-tailed bunny rabbit, Peter Rabbit himself.
The collection includes plaques featuring Peter Rabbit, Mrs. Rabbit and Peter Rabbit, Jemima Puddle-Duck and Benjamin Bunny. Each character is embossed, helping to bring them to life, and the tile includes an inspirational quote from the famous tales.
Each plaque perfectly complements the other, so customers can mix and match, creating a collage arrangement that works to their tastes and within the space available. With classic heritage designs that add a touch of nostalgia to any home or nursery room, these pieces are expected to sell out fast, so hop to it and order without delay!
The new Peter Rabbit Wall Plaque collection along with other licensed Peter Rabbit items and collectables are available via: www.enesco.co.uk.
About Peter Rabbit™ and Beatrix Potter
The Tale of Peter Rabbit is one of the world's best-loved children's books and was created by author and illustrator, Beatrix Potter in 1902. The story has never been out of print since it was first published by Frederick Warne & Co. (today an imprint of Penguin Random House) and has sold in excess of 45 million copies globally. Beatrix Potter personally oversaw the launch of subsequent products, making Peter Rabbit the oldest licensed character in history. Today over 2 million of her 'little books' are sold globally every year, whilst Peter Rabbit has appeared in books and products in more than 110 countries throughout the world. 
Penguin Ventures (part of the Penguin Random House Group) is committed to growing and protecting The Peter Rabbit™ brand and together with licensing agency, Silvergate Media, manages The World of Beatrix Potter™, one of the world's longest running
and largest international literature-based licensing programmes.www.peterrabbit.com