About Us

Established over twenty-five years ago, Enesco Limited, based in Carlisle, UK is a part of a world-wide group with headquarters located in Itasca, US. We're not your average wholesale gift supplier — serving more than three thousand customers from our warehouse in Carlisle, we manufacture and distribute giftware to a wide variety of specialty card and gift retailers, home décor independent shops and online retailers in UK and European markets (excl. France, Spain and Italy covered by Enesco France) as well as South Africa, Russia, Middle East and Australasia.
Our vision is to be a global leader in the giftware and home décor industries offering an outstanding selection of high-quality gifts and collectables.

WHAT CAN WE DO FOR YOU?

Our mission is to be your number one gift supplier by exclusively offering well-known licences for all-time favourites such as Beatrix PotterTM, Disney®, Willow Tree, Heartwood Creek® by Jim Shore, Harry Potter, DC Comics, Lolita® and many more. Our customers benefit from generous payment plans and promotions, excellent customer service support provided by an award-winning, dedicated customer service department based in Carlisle and comprehensive B2B website, available 24/7 that incorporates free product image library to support your online and social media activities.

WHAT OUR CUSTOMERS SAY ABOUT US

We are focused to drive consumer demand by providing quality and innovative products at the right price and exceed consumer and retail customer expectations in terms of our creativity, quality and service. When asked 'What made you choose to purchase from our company?' our customers said:
"Stock availability, good customer service, various ways to place orders (Web, Phone & Rep Visits), help with marketing information, images etc."
"Enesco is known by all as a trusted name that delivers quality products…"
"Good service, fast delivery, excellent sales rep and great communication and rapport"
"This is a fabulous company to work with & the order system is soooo simple!"
"Good quality products which are popular with customers, and good efficient delivery from you."
"We opened our Gift Shop nearly 6 years ago. We went to the Harrogate Show and fell in love with Enesco, Lolita, Beatrix Potter and now our latest being Disney letters"
"Great quality product at reasonable prices — also great offers"
"Enesco is my best company I deal with staff are all fantastic, service is great!"


SALES TEAM STRUCTURE
Our UK and Export sales team is led by our Commercial Director, Phil Atherton. Phil's role is supported by Head of Trade Sales — Gillian Blair — and team of five Area Sales Managers in UK, a National Accounts Manager, a UK Business Development Manager and a Key Accounts Manager and three Export Area Sales Managers in Germany, one in The Netherlands and an Export Sales Executive.
Other export markets include Scandinavia, Belgium, Austria, Switzerland, Russia, South Africa, Greece and Australasia and are covered through a variety of agents and distributors.
We also have a division — Fine Ceramic Transfers — based in Stoke-on-Trent, specialising in the manufacture of high quality decals for tableware and hotelware.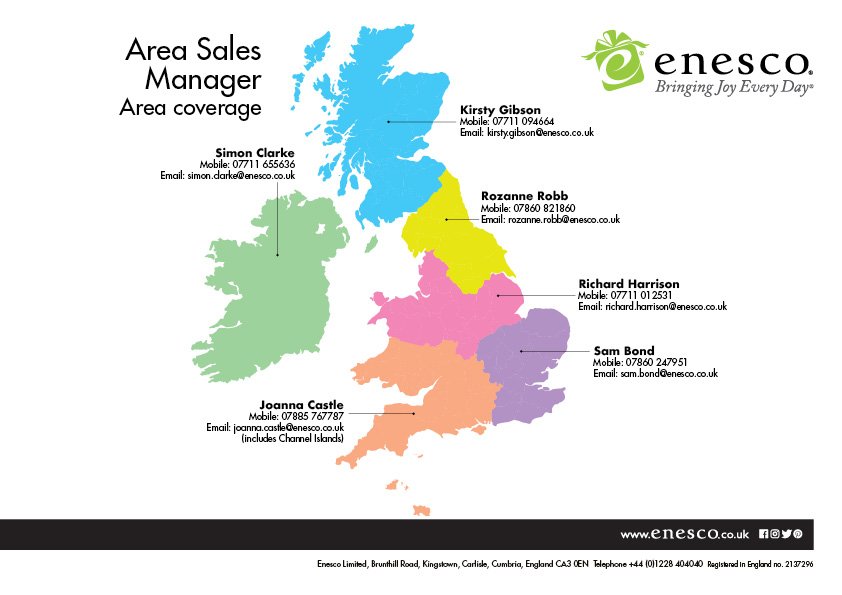 GROW YOUR BUSINESS WITH US

Apply for an account with us today! With our easy 'on the spot' application you could have our product on your shelves in just a few days!
Or contact us for more information.