Enesco has been producing Beatrix Potter giftware since gaining a licence in 1987. The range has grown in size, popularity and content due to faithful attention to her original style.
Over the years our artists have captured the essence of Beatrix Potter's lovable characters beautifully by bringing to life her original drawings, creating a delightful selection of figurines and giftware, which appeal to all fans of Beatrix Potter™.

New for 2019 is the launch of our Peter Rabbit Baby Collection, featuring new and exclusive artwork — utilising original illustrations blended with new representations of Peter — with a theme of Come Rain or Shine. The encompassing collection features muslin squares, face cloths, bibs, and a hooded towel for baby — along with a changing mat, bag and backpack for mum. These will make being out and about as easy as possible, with clever storage solutions beautifully designed and executed.

Following on from last year's launch of toiletry items this January we have added a bath bomb and travel set — featuring the best sellers in a smaller wash bag friendly size — to the collection. Both feature the clean linen scent and we are proud to report that Mrs. Tiggy-Winkle™ is delighted!

Our product offering as a whole includes figurines, nurseryware, money banks and decorations — all featuring the best-known characters — along with collections aimed at the young at heart among us featured product formats include scarves, candles, purses and bags to name a few. Take a little time to browse through what we have to offer — you may be surprised by what you find.

In 2003, a collectors' club was established — Friends of Peter Rabbit Club — which caters for Beatrix Potter™ fans of all ages and interests. Membership of the club now totals around 4,000 from all over the world. Members receive an exclusive free gift figurine with each year's membership, with exclusive opportunities to purchase club figurines as well. Members will also receive the Hill Top Tales magazine twice a year, which has information on all aspects of Beatrix Potter's life – you wouldn't believe the range of her interests and work! Further to this, Hill Top Tales includes competitions; regular input from Warne — the publishers of Potter's 'little books'; what's on 'Beatrix Potter-wise' around the country; and most importantly the thoughts, ideas and collections of our members.

BEATRIX POTTER™ © Frederick Warne & Co., 2019.
Frederick Warne & Co. is the owner of all rights, copyrights and trademarks in the Beatrix Potter character names and illustrations. Licensed by Silvergate PPL Ltd. part of the Silvergate Media group of companies.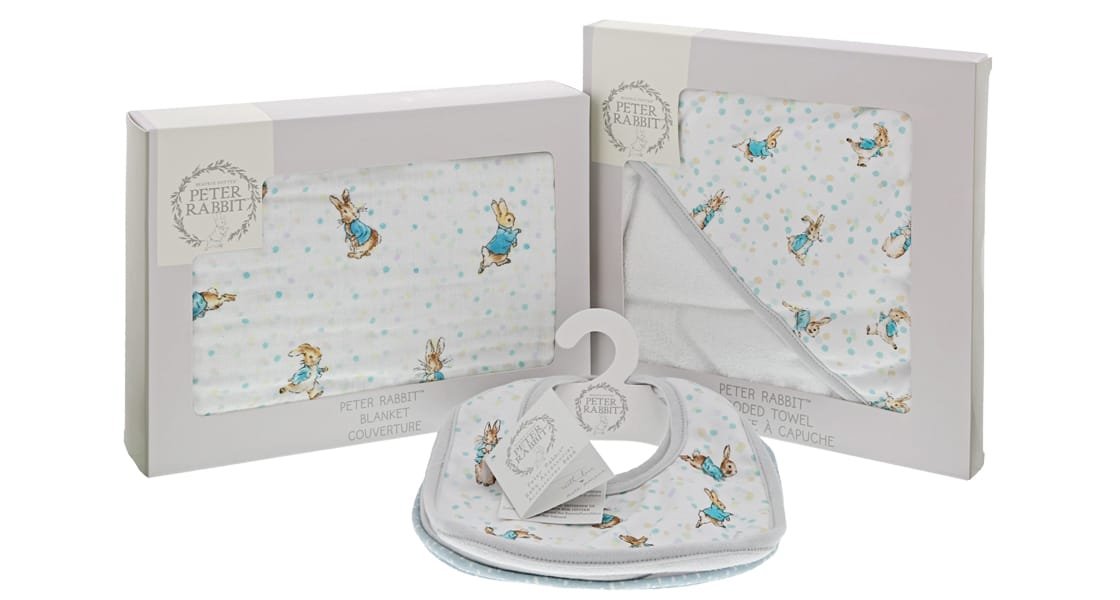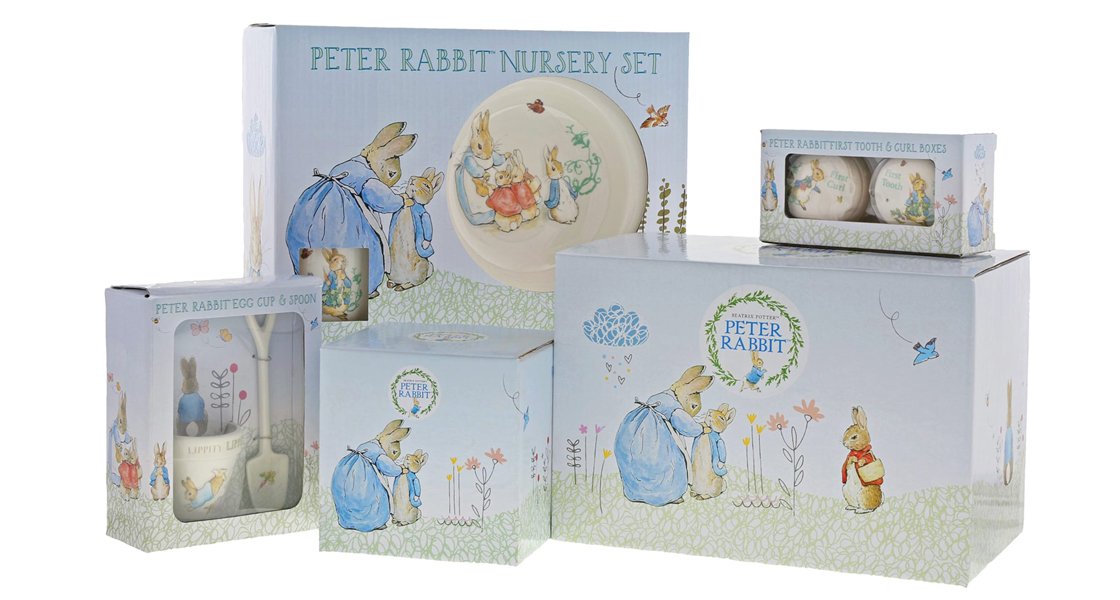 ---
Beatrix Potter News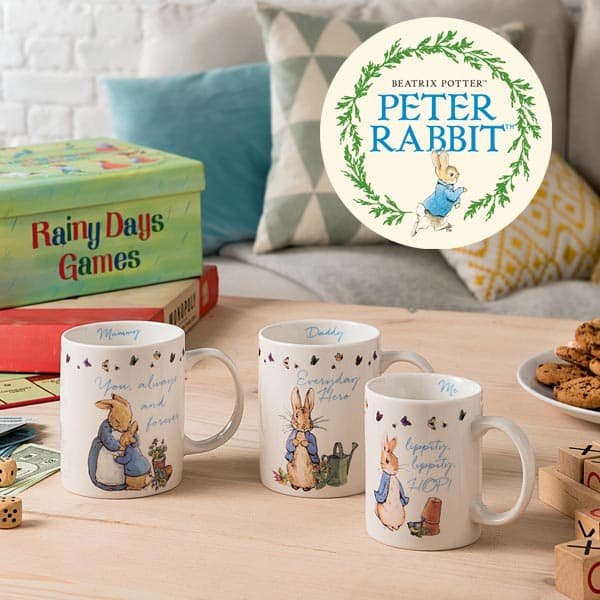 Hot on the heels of the ever-growing 'Twinning Trend', contemporary gift retailer Enesco, has unveiled a brand new Peter Rabbit Mummy, Daddy and Me Mug Gift Set into its Beatrix Potter collection, for all the family to enjoy.
Read More >>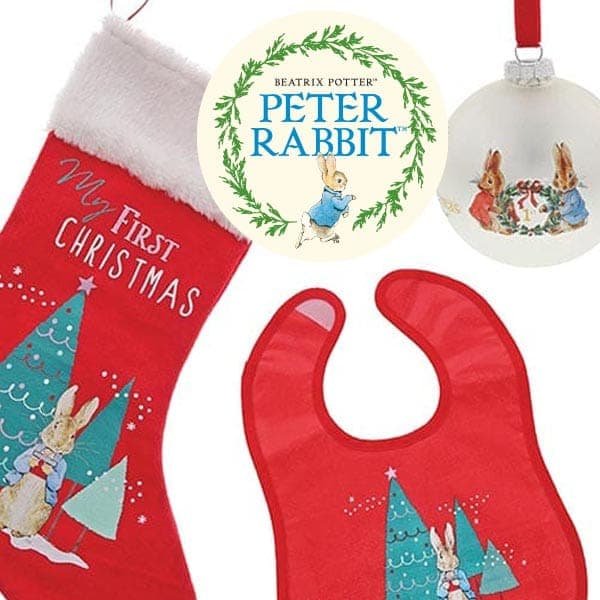 The renowned gift retailer has unveiled new, festive-themed additions into its Winter Collection for fans of Beatrix Potter's best-loved literary character, Peter Rabbit.
Read More >>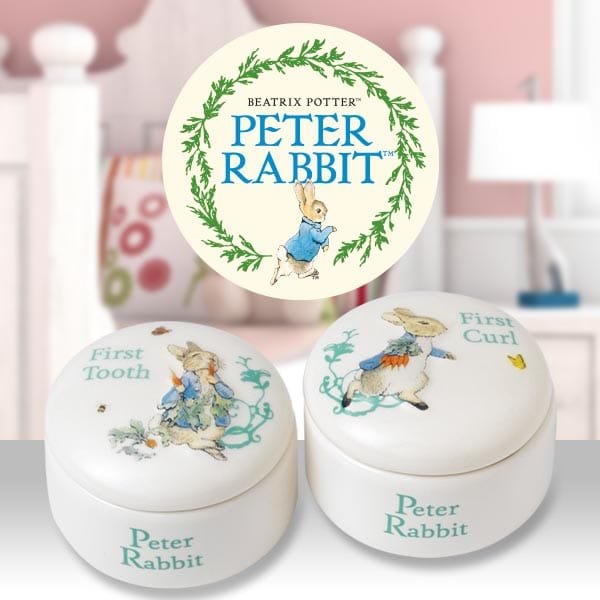 On 19th May 2018, the eyes of the world descended on the sleepy Southern market town of Windsor to watch Prince Harry finally get his happily ever after, when he married American actress, Megan Markle. In a stunning ceremony (who can forget the preacher's sermon!), after the exchange of heart-felt vows and the giving and receiving of rings, they emerged from St George's Chapel as the new Duke and Duchess of Sussex.
Read More >>