Peter Rabbit Baby from Enesco
Tuesday, 27 April 2021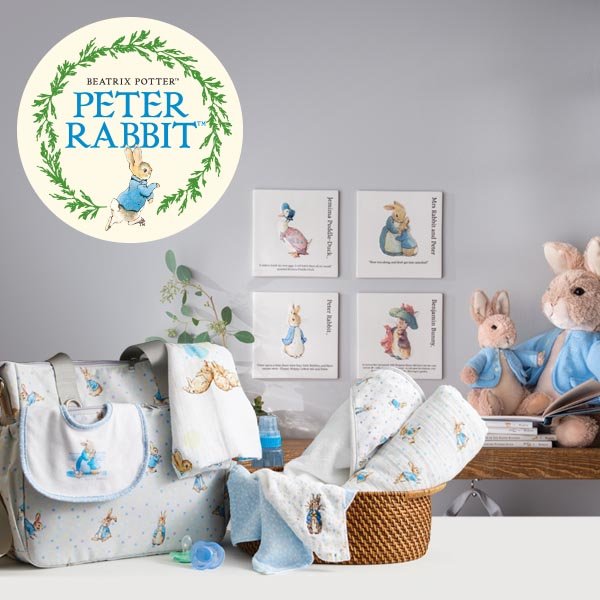 Enesco presented the licensed Peter Rabbit Baby Collection in 2019. Working closely with Penguin to create the totally exclusive artwork, the new collection followed the theme 'Come Rain or Shine' and went on to win a Gift of the Year award in 2020.
Featuring everyone's favourite cotton-tailed bunny, Peter Rabbit is depicted across the collection, seamlessly blending some of Beatrix Potter's original illustrations with more contemporary representations of the literary character. Harnessing hot trends in the baby and nursery industry, the collection sees Peter and his friends in a gentle watercolour washed background, where the sun shines and soft rainbow colours abound.
Available to buy within the Come Rain or Shine collection are the Peter Rabbit Muslin Squares, Peter Rabbit Face Cloths, Peter Rabbit Bibs, Peter Rabbit Dummy Holder, Peter Rabbit Changing Bag, Peter Rabbit Changing Mat, Peter Rabbit Hooded Towel and most recently the Pram Organiser.
The most-wanted piece in the whole collection is the Peter Rabbit Changing Backpack. Featuring Peter Rabbit on an easily wipe-down PU fabric, off-set against pastel splashes of colour on a cool grey background, the item measures 37cm x 28cm and is perfectly sized to fit everything a baby and Mum might need while enjoying a day out together. Retailing for £59.95 and complete with a giftable hang tag.
The 2021 collection moves into a slightly older age bracket with these adorable Peter and Flopsy bags made from high quality material and features a waterproof fabric lining, perfect for outdoor adventures, sleepovers, and school. This is a fun and practical backpack, is 40cm high x 30cm wide has been perfectly detailed with original illustrations, taken from the Beatrix Potter stories.