Enesco presents new Disney Traditions by Jim Shore figurine that is quite literally larger than life
Thursday, 2 January 2020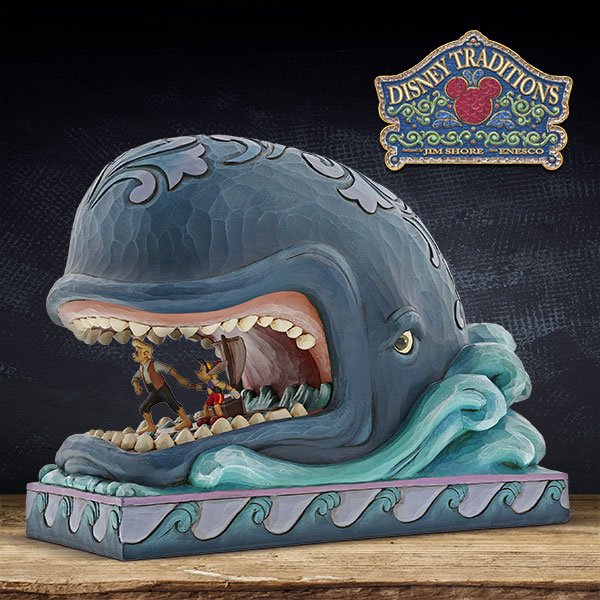 For your customers who are fans of much-loved Disney classics, Enesco is proud to present a never-before-seen piece into its Disney Traditions by Jim Shore collection.
Taken from the 1940 animated classic, Disney Pinocchio, A Whale of a Whale is truly a beast to behold. Feared by all creatures of land and sea, Monstro is simply massive. Even Pinocchio's conscience, Jiminy Cricket, tells the little boy who's got no strings that: "This Monstro. I've heard of him! He's a whale of a whale! Why, he swallows whole ships!"
Measuring a whopping 19.0cm high, this piece depicts the scene from the movie where, holding his hand, Geppetto gently calms Pinocchio's fears, even while in the mouth of the beast. Synonymous with Jim's style, A Whale of a Whale draws inspiration from American folklore design, with traditional quilting patterns intricately carved into the piece.
This beast of a piece coincides with the 80th anniversary of the film's release, bringing the scene to life as only Jim can. A Whale of a Whale is perfect for your customers who are looking to buy a special gift, or as a self-purchase for avid collectors of the animated classic during this special anniversary year.
A Whale of a Whale retails with an SRP of £89.95. The figurine along with other items in the Disney Traditions by Jim Shore collection are available to order from www.enesco.co.uk.
© Disney
Related Products