And they all lived happily ever after… Check out our new licensed Disney Princess wedding collection from Enchanting Disney
Friday, 10 May 2019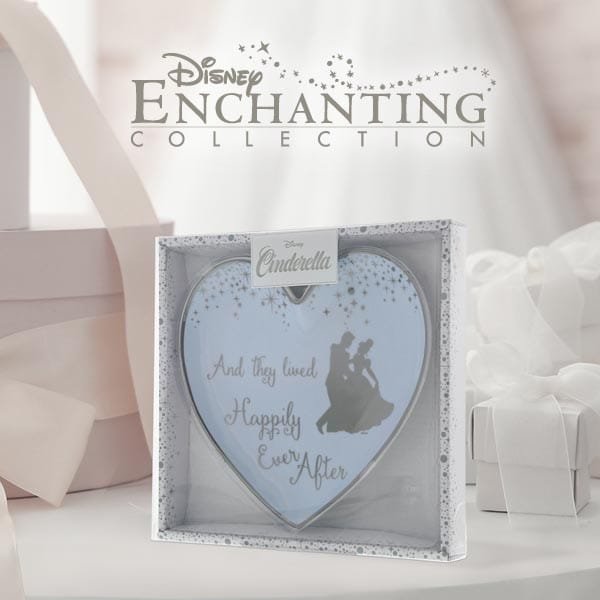 You can help your brides-to-be dreaming of a fairy tale wedding find their very own happily ever after, thanks to our brand new range of licensed Disney Princess themed items from Enchanting Disney.
New into the wedding collection are a wide range of Belle and Cinderella inspired items, that are bound to make any bride's big day extra special, with a sprinkle of Disney magic, of course!
This beautiful Belle Photo Frame holds a 5x4 picture which makes for the perfect gift for the happy couple to capture and display precious moments from their wedding day.
Presented with a warm ivory background set against gold starry highlights, Beauty and the Beasty are featured in a gold relief, dancing in a way that's reminiscent of the iconic ballroom scene, with the words 'The greatest love story ever told'  enveloping the two.
Measuring 17.0cm x 20.0cm x 2.0cm, this piece retails with an SRP of £29.95 and is available to buy from our website, along with other pieces in the Belle collection, including coordinating toasting glasses, a ring dish, cake topper, wedding bauble, money bank and trinket box.
Using the same colour-ways as the Belle Photo Frame, both the trinket box and cake topper feature a dome shape encasing the enchanted rose, in a nod to the fact that true love conquers all  – even an enchantress' curse – something your customers are just bound to fall in love with!
For fans of Disney's Cinderella and those celebrating finding their very own Prince Charming, your bride-to-be customers will fall head-over-(glass-slippered) heels with the wedding items themed like the classic animated film of the same name.
The Cinderella Wedding Ring Dish is a lovely heart shape featuring the same blue tones as the Princess' iconic dress. Edged in silver and using the same star motif as the Belle collection, Cinderella and Prince Charming are featured in a silver relief, posed as if dancing the night away before the clock strikes midnight. Finished with the words 'And they all lived happily ever after', this piece is the perfect present to gift brides and grooms on their wedding day.
Retailing with an SRP of £22, the Cinderella Wedding Ring Dish is also available to buy from our website along with other coordinating items in the collection, including a money bank, trinket box, wedding bauble, photo frame, toasting glasses and cake topper.
Like the Belle collection and the enchanted rose, both the trinket box and money bank feature the iconic glass slipper which Prince Charming then uses to find his one true love. The cake topper is also set to be a show-stopper your customer's wedding reception, featuring Cinderella and Prince Charming dancing while looking lovingly into each other's eyes.
All items from the Enchanting Disney Belle Wedding Collection and Cinderella Wedding Collection are presented in a beautiful branded window gift box for the added wow-factor, helping to bring a bit of Disney magic to the Happy Couple's special day.
What are you waiting for? The clock to strike midnight or the last petal of the enchanted rose to fall? Order these items into stock today and help your customers find their happily ever after!