Enesco unveils a new Dumbo Baby range in its Enchanting Disney collection
Tuesday, 22 January 2019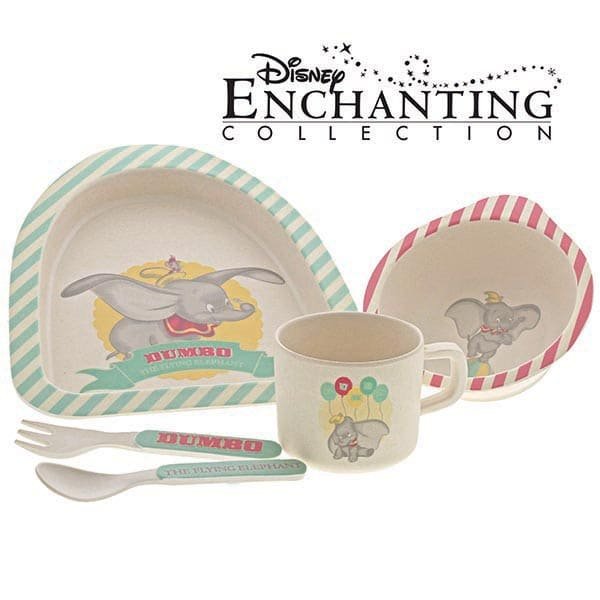 Ahead of the much-anticipated live-action remake of the 1942 Disney classic animated film, Dumbo, Enesco is proud to present its brand-new range of licensed baby products in its Enchanting Disney collection.
The new Dumbo Baby Collection follows a bright and colourful Big Top theme, with elements presented in candy-cane striped and spotted patterns, circus-silhouetted shapes and gender-neutral tones of mint green, yellow and red. Items within the collection include a Dumbo Bamboo Dinner Set, Dumbo Bamboo Snack Box, Dumbo Milestone Plaque, Dumbo Baby Mug, Dumbo Keepsake Box, Dumbo Photo Frame, Dumbo Money Bank and Dumbo First Christmas Baubles.
Also, within the Dumbo Baby Collection is the Dumbo PU Bibs. Available in a set of two and complete with a Kraft hanger, the bibs feature your customers' favourite flying elephant in animated-style scenes from the much-loved film. Measuring 37cm x 26cm, they retail with a SRP of £9.95 and are ideal for 'feeding time at the circus', when your customers' little ones might get a little messy, due to their wipe-clean nature.
Finally, completing the new Dumbo Baby Collection is the Dumbo Mug Set. Three different mugs make up this piece – two large and one small – with the design featuring the words 'Mummy' and 'Daddy' respectively across the larger sized mugs and 'Little One' on the smaller mug. The perfect family set-up, the items also have the lyrics from the iconic lullaby, Baby Mine, printed on the inside rim of the mug. The larger mugs in the Dumbo Mug Set stand at 9.5cm tall and the smaller at 8cm. The item retails with a SRP of £25.00.
All items in the new Dumbo Baby Collection are presented in display Kraft packaging with a Dumbo pattern, making them the ideal gift for your customers to buy as new-born gifts or as a special memento self-purchase to mark the birth of their child. The pieces are available to order from www.enesco.co.uk.