Mythical soft toys & gifts to make playtime even more magical
Thursday, 19 April 2018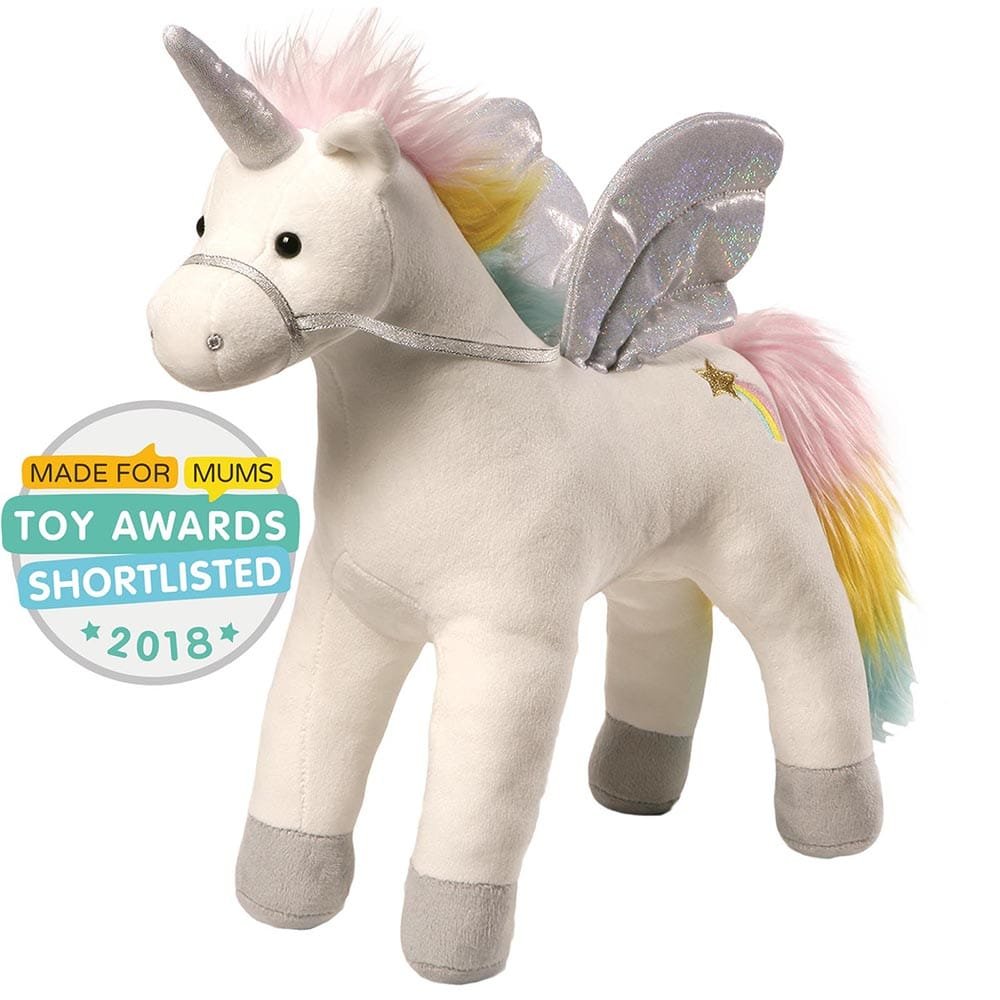 Calling all fans of fantasy! Are your customers a lover of anything and everything that is magical and mythical? Whimsical and wondrous? Then do we have a blog post for you! Take a scroll through the pages of social media channels and you'll see that unicorns, rainbows and of course princesses are a huge style-statement at the moment. So, if your customers are looking for super soft toys and room décor inspiration for them and their baby to enjoy endless hours of playtime together – whatever their little one's age – then read on...

From birth:
Is your customer expecting a little bundle of joy sometime soon? Or perhaps they've just welcomed a new-born into their family? We've no doubt your customer's new addition is the apple of their eye, and so while they're all wrapped up in that new parent glow (or perhaps that's just the side-effects of nappy changes and sleepless nights!), we've got some whimsical and wondrous soft toys and plushes to help make playtime even more magical for them and their baby.
Take a look at this My Princess Castle Play Set. It's full of cute activity toys that are sure to delight little princesses and contains a castle, a princess doll with crinkly fabric, a horse that makes magical sounds, an enchanted mirror and a star wand with a squeaker. Exclusively from GUND, this play set is sure to make playtime a huggable experience, with each item made from super soft fabric. Coupled with the interactive features of different textures and noises, through sensory play, the My Princess Castle Play Set helps with baby's development too.
With a SRP of £24.00, your customer gets a lot of bang for their buck – five enchanting items that are all CE marked, so they can be sure their little one is safe and secure during playtime. Plus, all of the items are surface washable and can be easily wiped down when inevitable milk-sick or nappy mishaps occur!
Then what about this oh-so-sweet Luna Keywind Soft Toy? A big hit in the Baby GUND collection (and it's not hard to see why), the lovely Luna is here to help your customer's little ones drift off into a peaceful sleep after a busy day of snuggles and smiles. Not only a super-soft toy, you can also wind the key on Luna's back to hear her play the classic lullaby 'Hush Little Baby'.
Featuring blush pink colours with slight purple undertones, with rose gold metallic hints running throughout her sumptuously soft fabric, the Luna Keywind Soft Toy is perfect for newborns as well as being a super-stylish addition to any nursey or play room.
With a SRP of £27.00, Luna makes a great gift for friends and family looking to buy a present to welcome the new little bundle of joy into the world. Like the My Princess Castle Playset, Luna is CE marked and surface washable, so those sticky little fingers shouldn't be a problem!

Bigger babies:
Not a new-born anymore, your customer's little one is growing up fast! Now they can roll onto their tummies, sit up unaided and are full of smiles and giggles. This stage in their baby's life truly is magical, and so they're going to want something equally as special to help make playtime even more memorable! So why not enlist the help of everyone's favourite Pomeranian pooch – Boo – as you've never seen him before?
As part of the Fairytale Dreams collection, Itty Bitty Boo Unicorn features the cute pooch wearing a pink fluffy jacket. With the hood of his coat pulled over his head, the outfit transforms him into a unicorn, with a silver holographic horn standing proudly between his ears, and a fluffy mane of rainbow colours cascading down his spine.
Itty Bitty Boo Prince is every inch the fairytale hero too. With a light blue cape draped around his shoulders, trimmed with a luxurious white fur and tied at his neck in a bow with a blue ribbon, a silver sparkling crown sits proudly on Boo's head giving this cute and quirky character a very regal feel.
And for every prince, there must be a princess. Itty Bitty Boo Princess shows the little dog wearing a tall cone-shaped head-piece in a metallic blue shade, topped off with a pretty pink ribbon. Boo's dress sits gently around his waist in a subtly shimmering fabric, completing his fairy tale look.
All of the Itty Bitty Boo items in the Fairytale Dreams collection have a SRP of £13.00 each. At this price point, they won't break the bank, and so your customer can afford to build their little one's collection of their favourite playtime pal to enjoy over the years to come. CE marked and hand washable too, Itty Bitty Boo is suitable for children aged one year and over, and because they're from GUND, they're sure to give hugs that last a lifetime.
Is your customer looking for something a little bigger than Itty Bitty Boo? No problem! Check out Boo Rainbow. Just like the mini versions but only bigger giving boundless hours of playtime fun for little ones, the Pomeranian pooch is wearing a super soft and really sweet light blue hoodie featuring an ever-so-on-trend rainbow print.
Like the smaller version, Boo is suitable for children aged one year and over, is CE marked and hand washable too. With a SRP of £34.00, Boo is sure to become a firm family favourite with your customers for many years to come.

Toddlers:
Toddlers. They're like mini people but only up to more mischief! And so when your customer's little one is at this age, they really do need something special to keep them engaged and entertained during playtime…
Building on the massive popularity of our expanding range of animated soft toys, triggered by the internet sensation that was Flappy the Elephant (who could forget that adorable little fella singing Do Your Ears Hang Low?), we're really is proud to present the My Magical Light and Sounds Animated Unicorn Soft Toy.
She really is a thing of beauty and – just like Flappy – we're sure she'll be a big hit with children and big kids at heart alike. With a soft white coat, a rainbow coloured fluffy mane, along with silver shimmering wings and a horn adorning her head, when your customers pet her back her wings light up and make a magical sound, making sensory play bags more fun.
Measuring 54.0cm, her coat is surface washable and suitable for children aged three years and over. The toy is also CE marked, giving your customers extra peace of mind that their child is playing with a toy that is safe and bought from a reputable retailer, with a dedicated customer care team based in the UK. No counterfeits here, thank you very much, and we're always on hand to help with any queries you or they might have!
Is your customer sick of sound-making toys? We know… they're secretly wishing for the batteries to die so they can enjoy a moment of peace and quiet (we've been there too – trust us!). So, if your customer is still looking for something whimsical and wondrous for their toddler to keep them entertained but without the sound effects in tow, check out Bluebell Purple Unicorn.
This perfectly purple unicorn is certain to please young fantasy believers with her cuddly soft fur, decorated with pretty pastel love hearts. Like the animated version, Bluebell is suitable for children aged three years and over, is CE marked and hand washable too. With a SPR of £24.00, she's sure to be a welcome addition to any playroom!

For the mums:
So that's playtime covered for your customer's little ones, but what about a little something for the mums? We know the excitement of decorating a child's nursey, after all, your customer is bound to have poured over Pinterest for hours looking for some theming inspiration. Well, look no further…
Our Unicorn Room Décor Head will make a stunning centre piece for baby's bedroom while being sleek, stylish and totally on-trend too! With a rainbow coloured mane and a silver horn, it's certainly set to add magic and sparkle to any room. Plus, with a SRP of £29.95, it's totally a style steal!
And speaking of rainbows, take a look at this magical multi-coloured soft toy… with a SRP of only £29.95, this rainbow-themed item would work well as a cushion on a nursing chair, propped up at the bottom of a bed or would sit stylishly overlooking the nursery on a set of shelves. Plus, because it's suitable for use by children aged one year and over, it's perfect for snuggles and cuddles too as your customer's little one gently drifts off to sleep.
So, there you have it. A whistle-stop tour through our whimsical and wondrous collection of all things magical for your customer's little ones. If you'd like to browse a little more and see our full range of unicorn, princess and rainbow themed plushes and soft toys, you can check out our full mythical range here. Happy shopping!