Enesco launches new collection of Lolita Gin Copa glasses in response to growing customer demand
Monday, 1 July 2019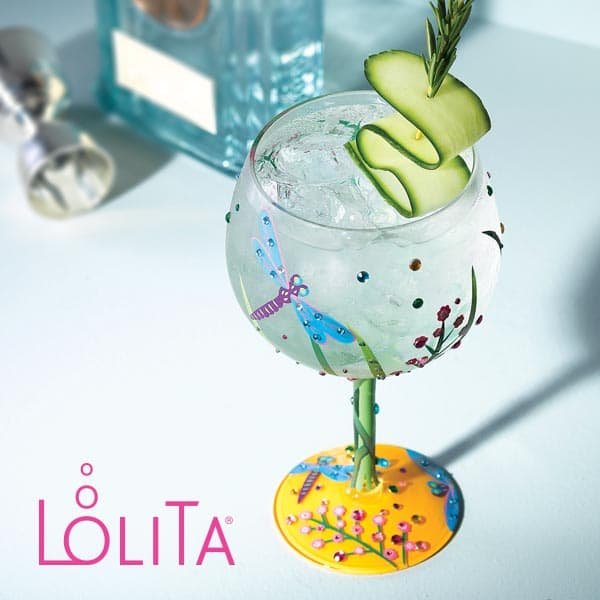 In response to growing customer demand, contemporary gift retailer, Enesco, is proud to present a new range of Copa gin glasses from Lolita.
We have four new glasses launching the collection, they are Butterfly, Ladybug, My Drinking Garden and Dragonfly, each Copa gin glass is instantly recognisable as being from the ever-growing Lolita range, using her signature style of bright bold colours with 'blinged-up' embellishments!
Dragonfly, in particular, is expected to be a best-seller and will coordinate well with other items from the Lolita collection with the same name, the stemless glass and wine glass, adding to the collectability appeal for customers. Featuring delicate green reeds entwining their way up the stem of the glass, a pretty blue and pink dragonfly is seen gently floating on the body of the vessel, with the whole piece accented by colourful crystals.
Every Lolita glass begins life as a sketch. The glasses are then blown using traditional techniques and are hand-crafted. As all of the glasses are made using this method, very slight variations can occur in the thickness of the rim or the weight of the product — all adding to the charm that is a Lolita glass.
Dragonfly measures 20.0cm and is presented in a branded gift box. With an SRP of £28.00, this new gin glass along with other items in the collection from Lolita is available to order via: www.enesco.co.uk
© 2019 Designs by Lolita. All rights reserved worldwide. © Enesco, LLC.
Related Products