Enesco announces new Willow Tree figurine showing the bond between mother and newborn baby
Monday, 1 July 2019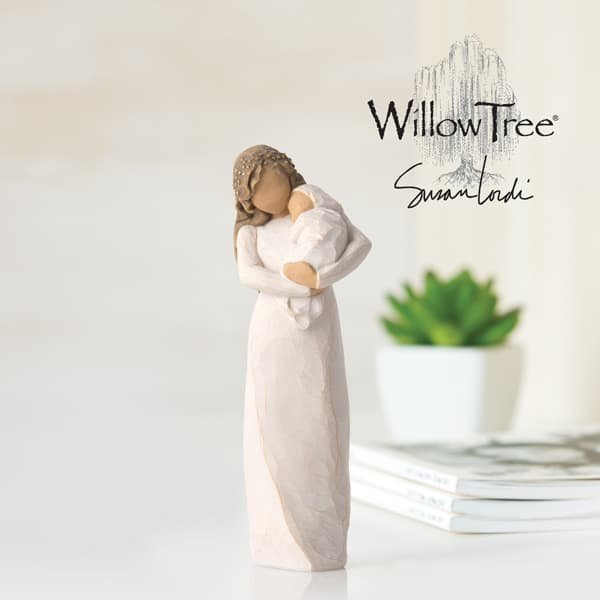 Contemporary gift-giving company, Enesco, has unveiled a new figurine joining the Willow Tree family, depicting the bond between a mother and her newborn baby, making it a beautiful gift to celebrate a new arrival's birth, christening or naming ceremony.
Sanctuary stands at 17.0cm tall and retails with a SRP of £34.00. It features a female figure gently holding a baby wrapped in swaddling. The woman's head is tilted towards the infant as if gazing at the child and in wonder of the miracle of life. Gold-leaf highlights ring the figure's hair, which could be considered a halo, a crown, a tiara or hair ornament. The meaning is left to the viewer's interpretation.
Artist Susan Lordi said: "I like the word Sanctuary. I'm thinking of it as a safe warm space that mother and baby create by being together, quiet, peaceful. The baby feels safe and happy, and the mother is too. They're connected – content to be in a place of inner peace and joy. This can be a 'guardian' piece as well, suggesting that your baby is being watched over, protected and cradled in a loving embrace. In this way, Sanctuary can be a healing piece."
Like all Willow Tree figurines, Susan Lordi hand-carves the original figure from her studio in Kansas City, Missouri. The pieces are then cast from her original carvings, with the figurines communicating their expression through gesture only. A simple tilt of the head or placement of hand allows the sculptures to speak in quiet ways.
The new addition to the Willow Tree collection, available to buy from Enesco, is sure to be a  favourite, to welcome new babies into a family, or serve as a reminder of those we carry in our hearts.
For more information visit: www.enesco.co.uk.
Related Products