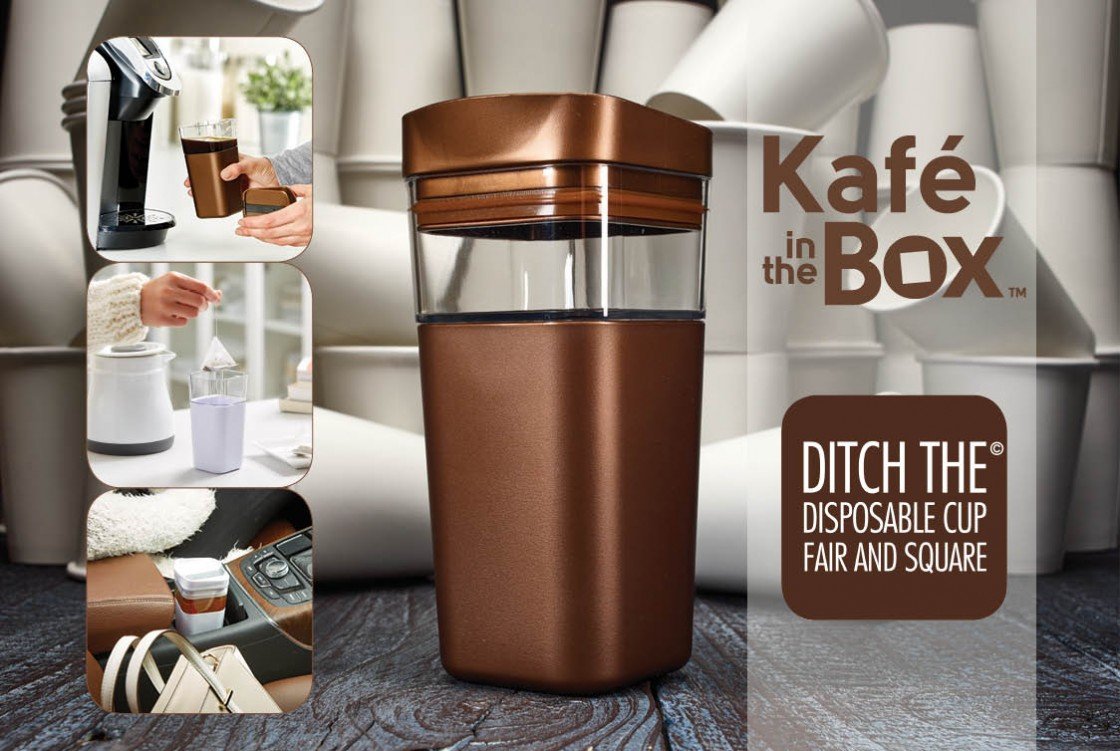 Reusable coffee cups fair and square. Stop using disposable cups and carry this super light cup! Kafe in the Box is unique… like you. Light, splash-proof and eco-friendly reusable coffee mug/travel mug.
Help our earth: bring Kafe with you in place of non-recyclable paper coffee/tea cups – disposables are not recyclable! See your Barista's creation through the clear walls: the perfect cup for the perfect latte moment. The sliding tab locks in aroma and prevents splashes.
Available in two sizes — 12oz/355ml or 16oz/473ml — and four colours to match your lifestyle (and your mobile phone), Choose from black, bronze, silver and white. for a totally coordinated look, while on-the-go!
Kafe in a box is a joy to drink from: as you take a sip from the sculpted spout, the reusable coffee cup is comfortable to use, splash-proof, and compatible for use with straws. It is perfect for busy people on the go. Kafe in the Box is your ideal driving partner – it slots into any standard cup holder. It also fits under most cartridge coffee makers and is dishwasher safe too.
Kafe in the Box is the ultimate reusable coffee cup. Made from a super tough inner, the cups are BPA, BPS and Phthalate-free and double-insulated, making them the perfect choice for hot or cold brews.
What's more, the material used doesn't interact with the contents of the cup, unlike some containers, so your drink tastes just as it should — no nasty after-tastes or funny little bubbles on the surface of the brew!
© 2019 Precidio Design Inc.