A vibrant and eclectic giftware collection designed by author and artist Kelly Rae Roberts and launched by DEMDACO® has passion and creativity at its heart.
The designs use Kelly's distinctive layered style incorporating media such as acrylics, oils, collage and ink to convey tender messages of hope, love and peace. The colourful collection includes figurines and housewares.
From Dear Mum featuring the sentiment: 'I heart your heart. With you, I've learned to dream big, trust and love wide. I count my lucky stars for you daily', to the new collection of angels — each piece is a captivating design expressing compassion. Each one reflects Kelly's love of people and life, and her heartfelt desire to help people connect emotionally.
The vibrant collection of Winged Inspriation Angels each carry sentiments that speak to the heart and make the perfect present for people to gift to their mother and other inspirational women in their lives.
Kelly became an artist after a career as a social worker, which gave her art authority and assurance. Evolving from the support and love received from the women she's worked with, Kelly hopes her art will inspire clarity and peace in return.
© 2019 DEMDACO.
Catalogues
Kelly Rae Roberts - Author and artist, Kelly Rae Roberts started her career as a social worker but later decided to follow her heart's passion to become an artist. - Read more
---
Kelly Rae Roberts Collection News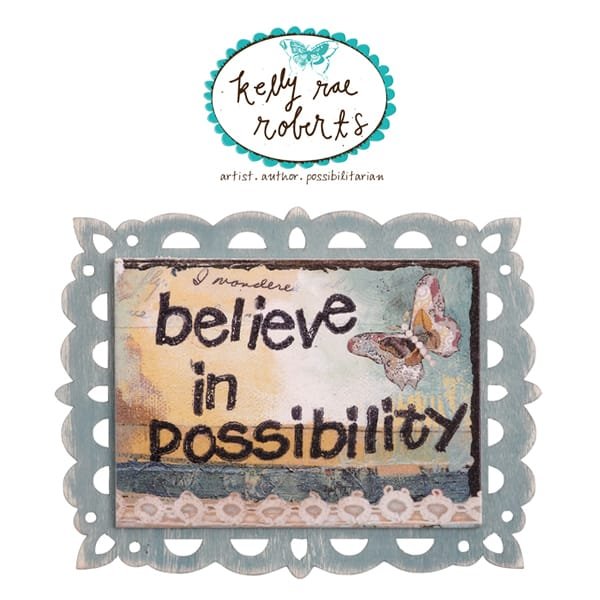 The colourful mixed-media art of Kelly Rae Roberts expresses the joy and wonder of living life to the full and exploring new things, as only this talented and much-loved artist can.
Read More >>