Beatrix Potter Baby Collection wins Gift of the Year Award
Thursday, 6 February 2020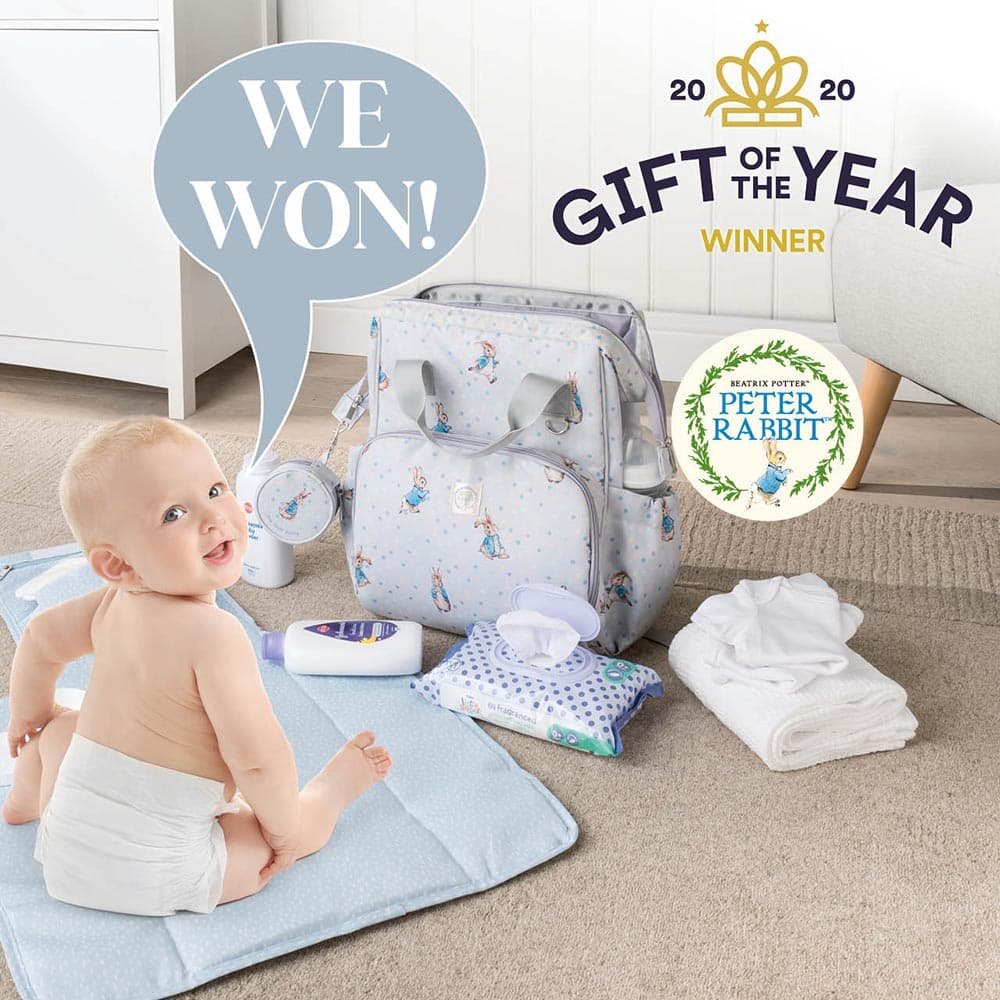 Pop the cork and clink those glasses because here at Enesco we're celebrating in style! That's right… earlier this week we were named national award winners for one of our very special licensed collections.
As many of you will know – perhaps some of you will have even seen us there – the Enesco team has been on the road in Birmingham's NEC at Spring Fair. Each year at the trade exhibition, the Giftware Association – which is the national trade representative body and the only UK trade association serving the gift and home industry – hosts its annual 'Gift of the Year' awards.
Now in its 42nd year, the competition is fierce to bag a Gift of the Year award – it's the most prestigious award scheme in the gift and home industry, has the largest number of entries and is THE ONE to win.
This year saw over 1,100 different products entered – the highest number for years! 320 entries from 50 different companies successfully reached the shortlisting stage, and we're pleased to say that two of those shortlisted were from Enesco. They were our Beatrix Potter BabyCollection in the 'Branded Gift' category and the Harry Potter Village from D56 in the 'Commemorative and Collectable' category.
Up against stiff competition, the winners of each category would be decided by a panel of 39 judges, consisting of retailers (independent and multiple), bloggers and influencers, as well media and members of the press. A tough line up to impress indeed…
We're delighted to announce that not only did our Beatrix Potter Baby Collection go on to reach the final, the judges also named the collection as the overall winner of the Branded Gift category!
To say we're 'hopping' for joy is a little of an understatement. In fact, this award is very special indeed, as Beatrix Potter and everyone's favourite bob-tailed bunny – Peter Rabbit – was our very first brand licensed collaboration back in 1987 and we're delighted that we've enjoyed such a brilliant (award-winning, in fact!) working relationship ever since.
From day one, we've been committed to bringing you, your customers, and collectors of all Beatrix Potter items the very best in gift and homeware items. Constantly innovating, pushing boundaries and striving to be market leaders, this award win is the culmination of it all.
The range has grown in size, popularity and content due to faithful attention to Beatrix Potter's original style, bringing to life in new and unique ways some of Britain's best loved literary characters. Our product offering as a whole includes figurines, nurseryware, money banks and decorations, along with collections aimed at the young at heart with product formats including scarves, candles, purses and bags to name a few.
That said… out Gift of the Year award-winning collection was the hugely popular Beatrix Potter Baby. Launched in Spring 2019, all items in this range have been a huge hit with mums and dads to be, customers gifting products to new parents celebrating the birth of a baby, as well as self-purchases for fans of the brand who are expecting their very own little bundle of joy, and want to share their love of Peter Rabbit and his friends with their baby as it grows too.
Following the Come Rain or Shine theme featuring Peter Rabbit in his iconic blue coat off-set against pastel splashes of colour on a cool grey background, the pieces in the collection are gender neutral and therefore paw-fect for both little girls and boys. Included in the range are muslin squares, face cloths, a hooded towel, bibs and a changing bag, changing backpack, changing mat, baby blanket and soother holder. And brand new for 2020, we're also pleased to announce the addition of a pram organiser into the collection.
Each piece uses totally exclusive artwork of Peter Rabbit as he's never been seen before. In fact, the designs were created right here by our team in Carlisle, working really closely with our friends at Penguin to create this brand new look and feel to the collection that's sympathetic and true to the original stylings of Beatrix Potter's work.
We absolutely love this collection and know that a lot of your customers do too. It's even more exciting to know that the judges at the Gift of the Year awards fell in love with these piece just as much as us, and we're thrilled to be bringing back this award from Spring Fair 2020 – what a way to kick off the New Year and here's to the start of another super successful decade for this licensed brand collaboration!