Help your customers to shake it up and celebrate cocktail month this May with a range of gorgeous glasses from Lolita
Tuesday, 7 May 2019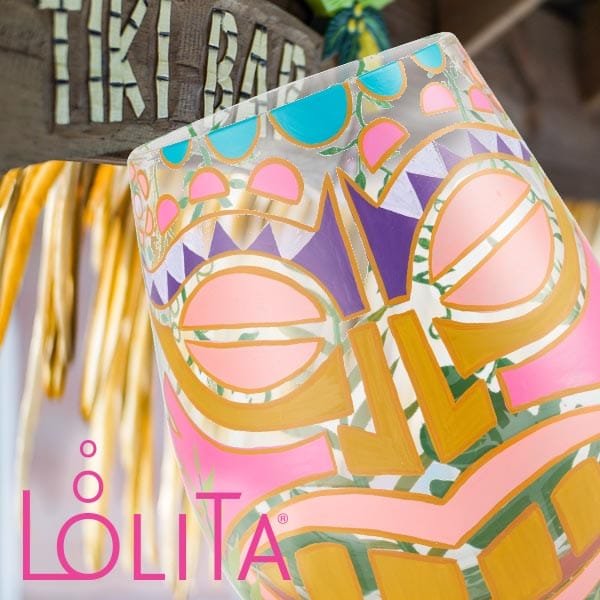 It all started with a girls' night out… one that contained more than the usual laughter and fun. Browsing for the first time through a Martini menu, Lolita was inspired by the recipes. After being served a Cosmopolitan, her creative imagination made her see the glass differently – the way she thought it should be – a bit more dressed up with a pattern, with flair and a fabulous recipe on the bottom.
It would become the first of many times Lolita would find a colourful vision dancing in a glass. After seeing each of her friends pick a different martini, reflective of their distinct personalities, the foundation for a product line was created. She knew this was something she had to pursue, and she whole-heartedly did. The concept was developed in 2001 and after sketching, planning and nurturing the line, the "Love My Martini™" collection blossomed in 2004 to soon become the hottest gift brand in America.
Fast-forward to 2019, and Lolita's collection of glasses continue to go from strength-to-strength, with new product lines added each season. If that's not enough to raise a glass to in celebration, then your customers need look no further, because over the month of May, there's reason after reason to pop a cork, crack open a bottle, and enjoy a tipple or two.
That's right, in May there is not one but four national days that give your customers the perfect excuse to enjoy their favourite drink a Lolita glass. On 6th May it's World Cocktail Day and the following day, 7th May, sees National Cosmopolitan Day. Later in the month on 16th May it's National Mimosa Day and wrapping up the celebrations on 25th May is National Wine Day.
To help mark the month of these different boozy occasions, we've got a selection of brand new glasses from Lolita that your customers are bound to love – not just in the month of May but the whole year through.
Why not help your customers escape to a tropical island with this Tiki Too Stemless Glass? Take a trip to the South Seas with this nouveau tiki glass, colourfully designed using a Polynesian-inspired motif. With the weather warming up, sipping a cocktail from this fun and frivolous glass will almost make your customers feel like they're in paradise!
Or, how about this totally on-trend snake skin inspired wine glass? Featuring tones of black and gold, Venom is a super stylish addition to any drinks cabinet. Whatever your customers' poison of choice is, they'll love sipping it from this glass.
Sticking with the animal theme which is a key trend for 2019, if the dark and dangerous nature of the Venom glass isn't quite your customers' style, then take a look at Golden Peacock. With breath-taking plumage and attitude, your customers can strut their stuff with this peacock inspired golden glass.
Like all of her glasses, Tiki Too Stemless Glass, Venom and Golden Peacock are wonderfully exclusive – no two glasses are ever identical. Every Lolita glass begins life as a sketch drawn by the artist.  The glasses are then mouth blown using traditional techniques and are hand-crafted.  As all of the glasses are made using this method, slight variations can occur in the thickness of the rim or the weight of the product – all adding to the charm that is a Lolita glass.
What's more, on the base of each Lolita glass, your customers will find a custom-made cocktail recipe for them to try out at home. So whether they're expert mixologists when it comes to creating a Cosmo or are just learning their way around a cocktail shaker, these new Lolita glasses – along with other wine glasses, stemless glasses, gin glasses and coupe glasses in the collection – are perfect for celebrating the many facets of 'Cocktail Month' this May!